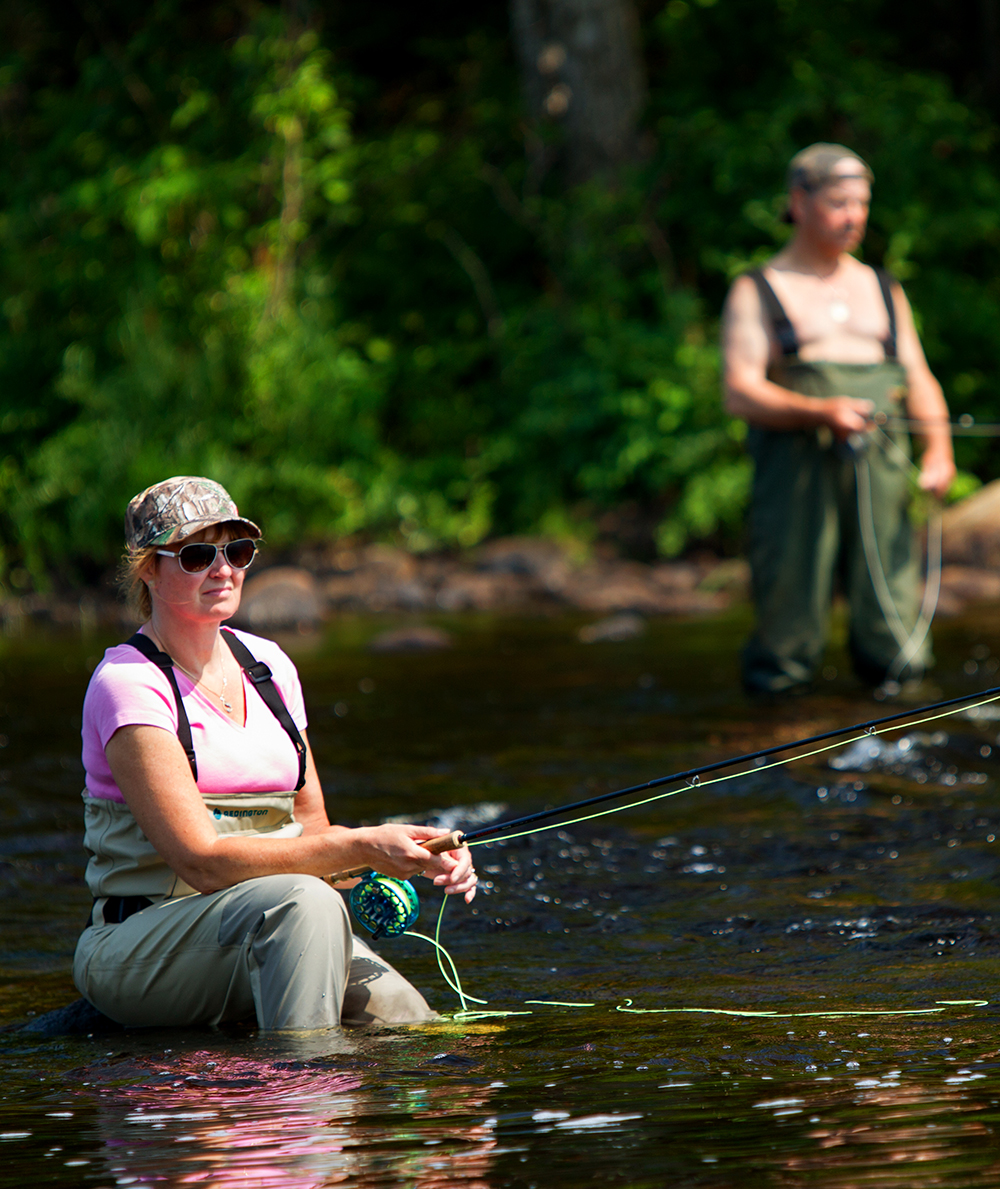 Experience a fishing paradise. Adventure Quest Outfitters' Moose Mountain lodge in Newfoundland is surrounded by numerous lakes, rivers and short streams and the waters are teaming with Brook Trout, Atlantic Salmon and Landlocked Salmon. Recommended tackle include spin casting or fly – whichever you prefer. Newfoundland and Labrador has over 60% of North America's best Atlantic Salmon rivers. There are also over 200 known Atlantic Salmon rivers in Newfoundland and Labrador. The Atlantic Salmon populations on the island are very healthy with the best fishing in June.
Take a deep breath when an Atlantic Salmon takes your fly. You're in for a battle of skill against pure instinct.
These powerful swimmers migrate up our mighty rivers and leap our rocky falls to reach the spawning grounds where they were hatched after a 2000 mile journey back from sea. From fresh water to salt water back to fresh water this species is one of the world's most amazing sports fish. Imagine a Salmon leaping falls 15 feet high…now can you imagine a fly rod in hand and on the end of your line leaps out of the crystal clear water a 10 pound Atlantic Salmon as bright as the sea? Let Adventure Quest Outfitters schedule you on a fishing trip of a lifetime. 
Host of the popular television adventure series The Fishing Musicians, Glen Ferguson adds, "I have filmed 7 television shows for our series in Newfoundland including one of our most popular at Moose Mountain Lodge with Adventure Quest Outfitters and can tell you with complete honesty that Newfoundland is one of the most amazing adventures you can ever experience. The first time we arrived back home from our first trip in Newfoundland , we were all so moved with our experience we went back on another unscheduled trip two weeks later! If you love the outdoors and wildlife there is not a better place in this world. The people are the most genuine in character and the friendliest in cheer."