Adventure Quest Outfitters operates out of six superb locations in Newfoundland and Labrador including Moose Mountain Lodge and Mitchell's Pond Lodge. We also operate four fly-in lodges (Rifle Pond, Cross Pond, Cormack Lake and Deep Brook) for untapped access to all that remote Newfoundland has to offer.  Whether you are looking for a rural hunting experience or high-end indulgence, we can tailor your stay, your way.
Please note we are able to adjust meals to meet special demands or dietary considerations.
Moose Mountain Lodge
Our main lodge -Moose Mountain Lodge is essentially an elite resort style operation. Our kitchen facilities are memorable with tasty fresh meals cooked daily by professional staff.
Moose Mountain Lodge amenities include:
full modern bathroom facilities
fully furnished bedrooms (en-suite rooms available)
large fire place
refrigeration for your wild game
Moose Mountain Lodge is a world class facility with hardwood from top to bottom, where your comfort is never compromised. Experience a taste of Newfoundland through our music, traditional dishes and artworks. Bring a group of friends or your corporate guests and combine business with pleasure or just come for the hunting/fishing adventure of a lifetime – an adventure you will never forget.
Moose Mountain Lodge is located just off the Trans Canada Highway at the Burgeo Highway turnoff.  The lodge is approximately 30 minutes from the town of Stephenville and an hour and half from the town of Deer Lake and Deer Lake Regional Airport. If you can afford more time and prefer to drive we are approximately two hours from the Port aux Basque Marine Atlantic ferry terminal.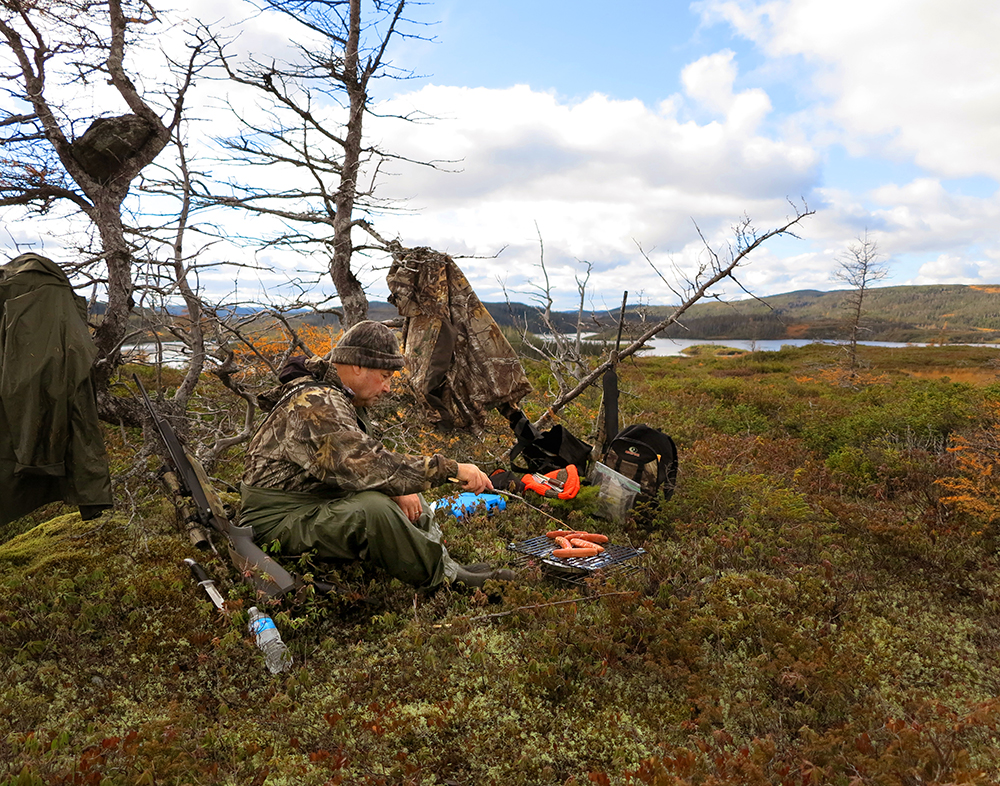 Mitchell's Pond Lodge
Guests of Mitchell's Pond stay in our comfortable lodge that provides all required amenities yet very rustic by design. Mitchell's Pond offers quaint living area and dining room area space and can accommodate guests in semi-private or single rooms.
Mitchell's Pond Lodge amenities include:
complete with refrigerator
deep freezer
microwave
Mitchell's Pond Lodge also includes a cozy wood fire where we invite you to chat about your thrilling guided hunting adventures.
Amazing food is an important aspect of any quality hunting experience. Guests of Mitchell's Pond are welcome to relax and enjoy a delicious hearty meal after a challenging day of hunting. Our cooks prepare substantial portions of healthy breakfast, nourishing packed lunch and outstanding main meals. Feast upon a satisfying array of regional delicacies including fresh fish, game and tempting homemade desserts.
Fly-In Lodges
Adventure Quest offers four incredibly comfortable lodges in some of the most remote areas of Newfoundland including Rifle Pond, Cross Pond, Cormack Lake and Deep Brook.  All remote fly-in lodges feature hot showers, satellite phones and full kitchens with great cooks.  Lodges are accessible by float plane and helicopter.